(Last Updated On: January 22, 2021)
Vegeta sure has changed a lot in Dragon Ball Super, Yet he has still glanced by many of his enemies through out the series. To highlight these instances and to give Vegetable some well deserved showtime. We are gonna look at some moments when he was underestimated. List will include scenes from anime and manga. There will be spoilers ahead.
5. Vegeta VS Cell
During the Cell saga of Dragon ball Z cell absorbed Android 17 and become strongest fighter on earth at one point. No one could stop him, until Vegeta arrives with his son to the battle. Cell says that he has no chance of defeating him, Android 18 agreed that Vegeta barely survived a fight against her. Only Android 16 pointed out that Vegeta has changed and may have a chance. As Vegeta powers up into a more buff form of Super Saiyan 2 great everyone was shocked. Vegeta then proceed to demolish cell . Later on Vegeta even allowed cell to absorb Android 18 .
As challenges perfect cell to take his attacks head on. Perfect cell was just smiling, but when Vegeta flashed he was shocked as half his body was vapourized.
Cell in his final fight against Gohan, he underestimated Vegeta again. When Vegeta used his last bit of energy and allowed Gohan to use the full force of his one handed 'Ka me ha me haa' to finish cell.
4. Vegeta VS Pui Pui
Durimg the Boo saga new enemy had arrived named Babidi. Shin had advised Goku and Vegeta to not to go inside babidi's wish, But they did. Z fighters faced a guy named Pui Pui. He tries to kick but Vegeta blocks it easily, then he punches Vegeta Dogdes. Babidi then changes the environment of planet which is 10 time the earth's gravity. Thinking that Vegeta have no chance , but he had no idea that Vegeta has already trained in 450 times the earth's gravity.
Vegeta then proceeds to erase Pui Pui with his double Galic Gun. Babidi underestimated Vegeta again after he becomes majin Vegeta, he ordered him to kill Kai o shin the supreme Kai, but Vegeta refuses saying that Babidi can take control of his mind and body but cannot controle his Saiyan Pride.
3. Vegeta VS Magetta
During the universe 6 saga Vegeta fought with a metal man named Magetta who was surprisingly able to withstand Vegeta's pucnches. Champa put a barrier around the ring with made it unable for Vegeta to withstand the heat and hot air getting difficulty to breath.
Vegeta then powered up to the maximum the sheer force of his Ki was able to destroy whole barrier around the ring. Everyone just underestimated Vegeta.
2. Vegeta VS Black
It was already the Zamasu saga. You and Vegeta had already fought Zamasu future once and lost. Vegeta furious had decided to train for 6 months in the room of spirit and time. Enough to destroy the entire room creating a huge creater at Kami's lookout.
Interestingly in Manga exactly the same science was present in which the Vegetable first fought Zamasu and in second time Vegeta had learnt to switch b/w Super Saiyan Blue and God. He used the full strength of Super Saiyan Blue in short period of time. By saving his stamina. Trunks was also surprised by this.
1. Vegeta VS Toppo
In ep 126 of anime Toppo unleashed his full power of God of distriction. In this state Toppo can erase any energy using his own Hakai energy. He became unstoppable. Vegeta steps in with his new found Super Saiyan Blue Evolution form.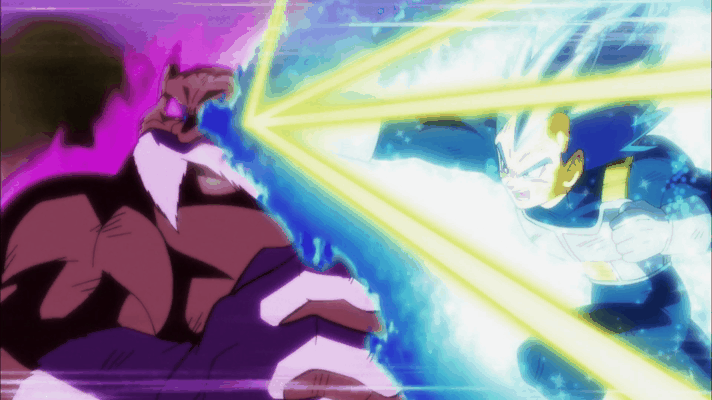 Logically it seemed imposible to defeat Toppo. Then suddenly Vegeta used a attack so powerful that could not be countered or over come by Toppo's Hakai energy. This attack was the final explosion that was also used against the fat Boo in Dragon Ball Z. Vegeta believed in his principle and family as well as friends to defeat Toppo. Surprisingly Vegeta survived it and continued fighting.
So this was our list and let us know in comment how strong Vegeta really is?
Thanks for Reading Also check out more great Anime , Manga ,Games and Movies related content.
Check out