Food Wars is like, the ultimate anime for foodies. It's all about this dude who's like, super talented at cooking and stuff, but he's also like, super stressed out because he's been carrying around all these expectations from his family and society and stuff. But it's not just about food, it's also about like, deep emotional themes and stuff. It's like, legit the best show for anyone who loves food and getting all hyped about it. You'll be like, having a total foodgasm while watching it, I swear.
So, if you are a foodie and loved Food Wars because of the high-intensity drama, the cooking showoffs, and of course the food and want to watch something like that, then here is a list of the top 13 anime & manga like Food Wars.
13. Dagashi Kashi
Dagashi Kashi is this really chill anime that's all about food and emotions and stuff. It's about this guy named Kokonotsu who just wants to follow his passion and make manga, but his dad is all like 'Nah dude, you gotta take over the family sweet shop.' So it's this whole thing where they're both trying to figure out what they want and what's important to them. And then this chick Hotaru shows up and she's like, trying to get Kokonotsu's dad to work for this huge sweets company, but he's only down if Hotaru can convince Kokonotsu to take over the sweet shop.
So Hotaru's like, trying to show Kokonotsu all these crazy details about making sweets and why it's so special and stuff. It's not like, super intense or anything, it's just like a really relatable, slice-of-life kind of show. If you're into that sort of thing, definitely give it a watch
12. Gourmet Girl Graffiti
Like any other grandmother, Ryou Machiko's grandmother also thinks that a good cook, makes a good wife and that's what Ryou has been taught to believe since her childhood. When she reaches her teenage, she now believes that she can't find true love because she isn't a good cook. But this all is about to change when her cousin moves in with her and makes her realize that sharing is what makes food taste better. This anime has characters that will grow on you very quickly, you will love them from the very first scene.
This show is very much like Food Wars just exclude the war part, it doesn't have any cooking battles or showoffs. It's about Ryou getting to know her passion for cooking better, learn cooking after she left it because of her grandmother's death. The animation is also very cute and childlike in this anime and has an innocence to it.
11. Ben-To
Did you like the quirkiness of Food Wars? The ultimate rivalry over food? The high intense drama? the passion for food? If you loved all this in Food Wars then, this is the anime you must watch next. But instead of making food, in this anime people fight for Bento boxes, which are being sold at half the price in a daily midnight sale at the supermarket. Friends become foes and fight like dogs to get hold of the maximum number of Bento boxes. Youu Satou, our main character, accidentally stumbles in the 'war zone' but instead of running away from it, he joins the war for bento boxes and has been part of bento wars ever since.
No one could have ever thought of such an idea and hats off to the creators who came up with such a unique plot. This anime is surely action-packed and the action over such a trivial thing might be very interesting and full of fun to watch and worth your time.
RELATED | Top 17 Best Martial Arts Anime With Amazing Action | Top 27+ Most Badass Female Anime Characters
10. Restaurant to Another World
This is not your typical food anime, it is so much more than that and very interesting. Restaurant Nekoya is just another popular western restaurant in Tokyo, so would you think. Restaurant Nekoya is not just another restaurant rather it is quite an interesting one, on Saturdays when it is closed for humans, it has customers who are not even from this world, every creature from dragons, elves to fairies, everyone dines in this restaurant, fascinating, isn't it? But it doesn't lose the main theme, I.e., food.
It celebrates its love for food, cooking in its own particular way. This anime sure will give you different vibes from Food Wars because it is different. This might be the only show which mixes three very different genres of anime- isekai, battle shonen, and cooking. Yes, it also has cooking battles, it's a mixture of all and fun and entertainment is guaranteed.
9. Toriko
Have you dreamt of having a candy house in a candy world? If yes, then this anime will make your dream come true. Although it doesn't have candy and chocolate land, it does have hamburgers growing like trees, the landscape covered in ice cream, all in all, it is set in a fascinating and amazing world. This world has so many ingredients and a variety of food can be made from it but humans are yet to discover all the ingredients. We follow the story of a passionate gourmet hunter- Toriko. He is famous because he is the one who discovered 2% of all known ingredients. But it has not been easy, in order to find ingredients, he has to fight devils, monsters, and every other person.
It has the same passion for food as shown in Food Wars. This anime is on another level for its love for food. All the foodies are going to love this anime, for how it exquisitely shows food and ingredients. So, if you are a foodie and love adventure animes then give this anime a watch.
8. Kakegurui
This show has nothing to do with cooking but the passion and intensity of drama will just remind you of Food Wars. While Food Wars is about cooking show-offs this anime is about gambling and not adult gambling but teenage gambling, I know a little bit twisted but which anime isn't? This anime has so much mind games, so much manipulation that you will be in awe of the characters and fascinated by their talent to manipulate other people, and wish to have that power for yourself. The gambling battles will give you real adrenaline rush.
The characters and the setting will remind you very much of Food Wars, a bunch of teenage kids in a high school who are passionate about what they do and have fierce battles with each other. Yumeko Jabani, a transfer student just plays for the thrill of gambling and not to win, and she is quite good at it and has fascinating and twisted gameplay, which also amazes people at the high school. This is a must-watch anime, just for excitement and thrill.
RELATED | Top 15 Best Gambling Anime To Watch | Top 22 Best Psychological Thriller Anime
7. Cooking Master Boy
This anime feels more like Soma's father's story. In this anime, our main character Mao leaves on a countrywide journey of China, to learn more about the various cooking styles and foods present in the vast country, before taking his mother's position as a MasterChef in the restaurant. This anime is also quite similar to Food Wars, just their setting is different. Mao, just like Soma makes many friends while on his journey, just like Soma also has a passion for food and wants to be the best cook and make the best food. But unlike Soma, he has to work hard to achieve what he wants to, not discrediting Soma's hard work but he was quite talented already.
It is a classic anime that will surely make you drool; it will expose you to the tasty cuisines China has. There are many other themes, like friendships and the hierarchy of chefs, which are discussed in this anime which will make you feel an emotional connection to it. It definitely is worth watching.
6. Yakitate!! Japan
Food Wars was about various different cuisines all across the worlds, but Yakitate!! Japan is just based on one thing- Bread! There are various breads, which people love all across the globe, but Japan is not the first place that comes to your mind when you hear the word 'Bread' and that's what our main character also thinks. But after finding out that he indeed has 'Hands of the Sun' which are perfect for kneading bread dough and gives him an upper hand at making bread, he packs his bag and leaves for Tokyo to work in a restaurant chain known as Pantasia.
One thing I can say is that this is the anime that introduced the word 'foodgasm', the after-taste expressions by the characters, the heightened description of the bread's taste and the process of making it, makes it very much like Food Wars in that sense. So, definitely give it a watch and you will enjoy every bit of it if you like Food Wars.
5. Yume-iro Patissiere
Do you like cakes? Wanted Food Wars to include more baking and more cakes? Want to show Food Wars to someone young but can't due to its fanservice? If your answer to anyone of these questions is affirmative, then Yume-iro Patissiere is the anime for you. Our main character Ichigo Amano, just like Erina Nakiri has a great sense of taste and can very well feel the nuances of taste, due to this ability of her she is invited to join the best culinary school, which specializes in desserts- St. Mary Academy.
This anime is as dramatic as Food Wars but cuter, cuter in the sense that it doesn't do much fanservice and characters also are kawaii. This anime is about Ichigo, being unaware of her talents till now, trying to beat the best at the culinary school and being the best chef there is, and being at the top of the competition. It's her only goal. This anime is surely worth your time.
4. Kill La Kill
So, this anime is not based on cooking or culinary skills it's rather a fun thriller, but then you might be wondering why is it on this list? Well, this anime is very similar to Food Wars in the way it is presented. Just like Food Wars, this anime is filled with ecchi and action-packed scenes. In Food Wars clothes come off as a symbol of 'foodgasm' and the same happens in Kill La Kill when people fight with each other. The battles are also quite dramatic, just like in Food Wars and also both the animes take place in an academy of some kind. Both the academies in the respective animes also have a hierarchical system.
Kill La Kill is about Ryuuko Matoi, who is in search of her father's killer. And while on the search of the person, she stumbles across Honnouji Academy and gets involved in a brawl with one of the members of the 'Elite 4' and after losing badly decides to stand up against the 'Elite 4' who might have some connection to her father's murder. Definitely watch this show for its thrill and drama.
RELATED | Top 17 Best Action Romance Anime That are must watch | Top 25 Best Action Adventure Anime To Watch !! 2023
3. My Hero Academia
This anime doesn't need any introduction, in my opinion. And to be honest, this anime doesn't have to do anything with cooking except the fact that one of the main characters got burnt because his mother spilled boiling water on him, this is the only way this anime is remotely related to Food Wars. The only reason this anime is on this list because of the similar setting in both the animes. Both the animes are set in a high school teaching teenagers some special skills. Both have battles that define who they become at the end of their school.
Both Souma and Deku are passionate about their goals and want to be the best out there. Both the shows explore the friendship dynamics between characters, even those characters who are not your friend. Unlike Soma, Deku doesn't have a natural talent but it doesn't stop him to achieve what he wants to. Both Soma and Deku have similar moral ground. If you like action and battle sequences in Food Wars then you are in for a treat in My Hero Academia.
2. Haikyuu
How can I not include one of the best anime from the sports genre? If you look at it, Food Wars too can be considered a sports genre, just the sport is cooking. The way Food Wars is presented, with all the championships, tournaments it can very well be a sports anime. Haikyuu is based on volleyball, and if you're wondering how volleyball can be interesting then you need to watch this. Even if you are not that much into sports then also this anime will provide the viewer a wholesome experience.
Just like Food Wars, Haikyuu is an exhilarating anime and you won't regret watching it even a little bit. The tension during matches, the high-intensity drama, the thinking during a match all makes for an exciting and thrilling anime. Both these animes have very long arcs and setups which makes it more engaging and we are interested to know what will happen next. If you are looking for a similar vibe to Food Wars then try this.
1. Silver Spoon
Have you ever given a thought to how food is made in the first place? How much effort goes into farming, growing crops, raising cattle, and various other kinds of animals. Well, this anime focuses on this as well as the food part. It shows us both, how well-grown crops or well-fed cattle can give us the best eating experience, it's not just about how you cook but also what you cook. This surely doesn't have the same vibe as Food Wars but the energy, the passion in both the animes are similar.
Unlike Soma, Yuugo Hachiken is not very good at farming, he can't wake up early, can't do so much physical stuff, doesn't understand animals and their psychology that well, he just took admission to Ooezo Agriculture High School to get away from his parents. It also has many comedic moments like in Food Wars and is lighthearted and in good fun. It is a journey of an underdog and the anime does justice to its characters, story, and plot.
Bonus – Shokugeki no Sanji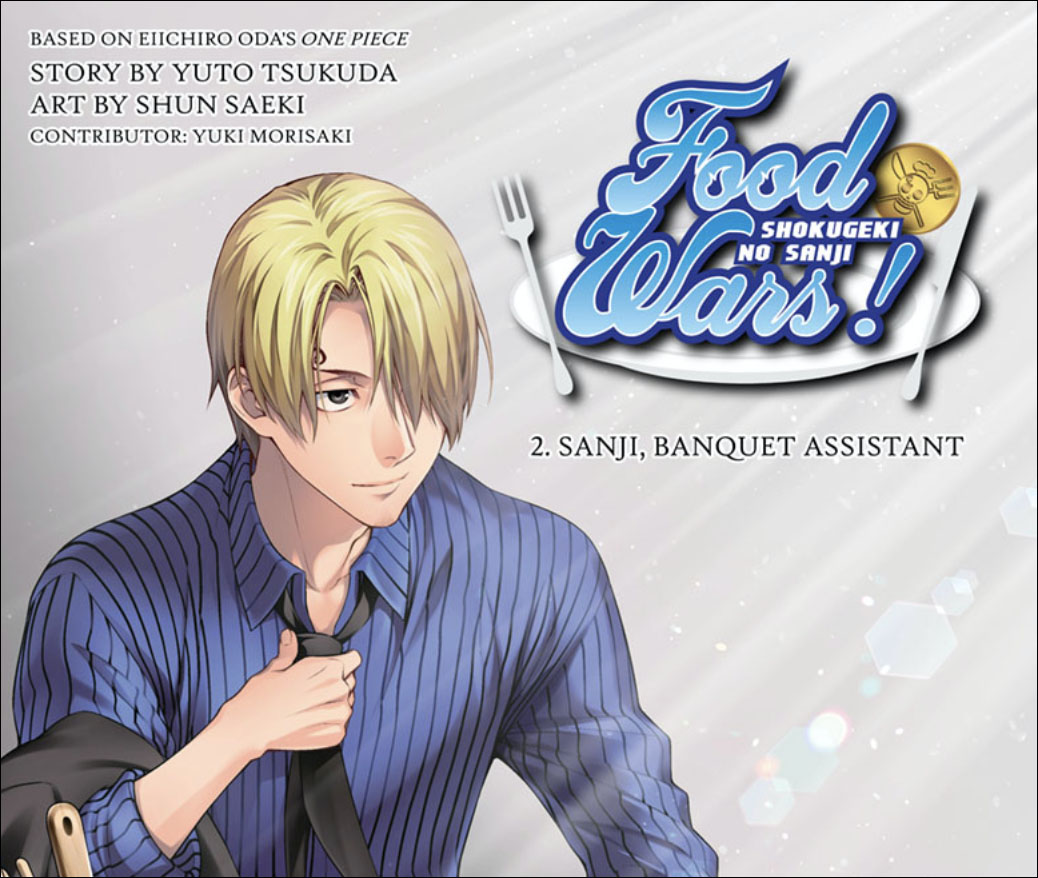 Among anime chefs, Sanji from One Piece is world famous and fans had always wanted him to be in a crossover with Food Wars, which the original creators did.
Shokugeki no Sanji is a spinoff series created by the creators of Food Wars: Shokugeki no Soma, Yūto Tsukuda, and Shun Saeki. The first installment was published in 2018 to celebrate the 21st anniversary of the One Piece manga and the second, titled "Sanji, Banquet Assistant", was published in 2021 to celebrate the release of Chapter 1000.
These were the most similar manga & anime series to Food wars, in my opinion. Food Wars is one of the best cooking anime series. What do you think about Shokugeki No Soma? Tell us in the comments below. Also Check Out: