(Last Updated On: April 11, 2021)
Edens Zero's official Twitter account announced on Saturday that Netflix will be streaming it outside Japan around this fall. Edens Zero anime is adapted from Fairy Tail creator Hiro Mashima's manga of the same name. The manga was launched by Mashima in Kodansha's Weekly Shonen Magazine in June 2018.
Overseas fans, "EDENS ZERO" will be coming out in Fall 2021 for ex-Japan territories on Netflix! Please wait a little longer! #EDENSZERO

— EDENS ZEROプロジェクト公式 (@EDENSZERO_PJ) April 10, 2021
Kodansha Comics publishes the manga in English both digitally and in print. The company describes the story:
At Granbell Kingdom, an abandoned amusement park, Shiki has lived his entire life among machines. But one day, Rebecca and her cat companion Happy appear at the park's front gates. Little do these newcomers know that this is the first human contact Granbell has had in a hundred years! As Shiki stumbles his way into making new friends, his former neighbors stir at an opportunity for a robo-rebellion…And when his old homeland becomes too dangerous, Shiki must join Rebecca and Happy on their spaceship and escape into the boundless cosmos.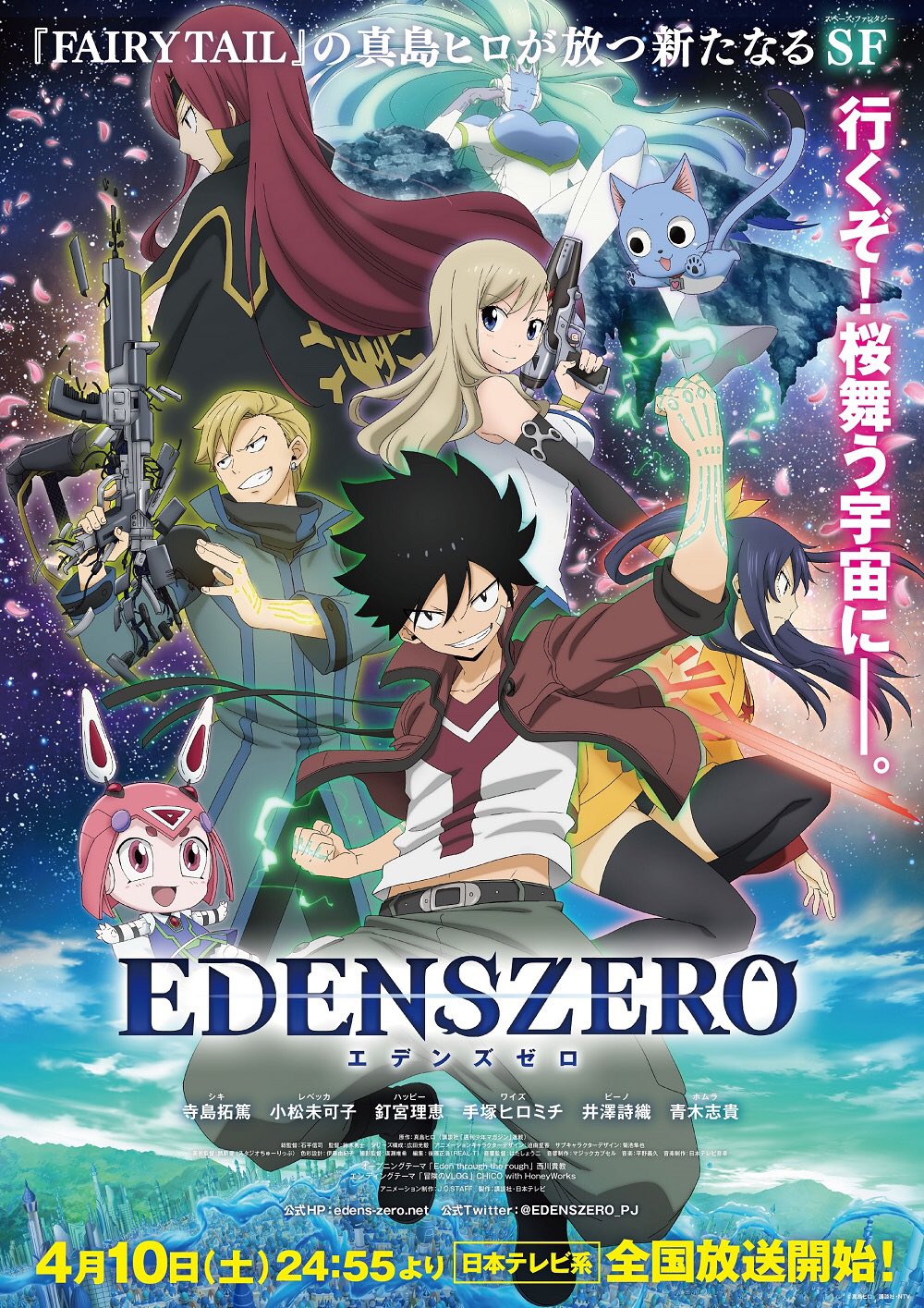 Original – Hiro Mashima (serialized in Kodansha's "Weekly Shonen Magazine")
General Manager – Shinji Ishihira
Directed by Yuji Suzuki
Series Composition – Mitsutaka Hirota
Animation character design – Yurika Sako
Sub character design – Hayaya Kikuchi
Art directorWeismann (Studio Churippu)
Color Design – Yukiko Ito
Cinematographer – Yuki Hirose
Edit – Masahiro Goto (REAL-T)
Sound directorShoji Hata
Sound production – Magic capsule
Music production – Nippon TV Music
Animation production – JCSTAFF
Production – Kodansha / NTV
The anime premiered on NTV and other channels on Saturday, April 10 at 12:55 p.m. (effectively April 11 at 12:55 a.m.). In Japan, the show premiered on Netflix and Hulu on Saturday and will air on other streaming services in Japan a week later.
On September 16, 2020, Famitsu announced that the manga will have a video game adaptation developed by Konami. It was later revealed at the Tokyo Game Show 2020 Livestream that two separate action RPGs were in development, one is a 3D game for consoles and the other is a top-down game for mobile devices.
Source – Edens Zero anime's Twittter account