JUJUTSU KAISEN 0 Anime movie in just a few days, Jump Festa 2022's JUJUTSU KAISEN stage brought a brand new, action-packed, combat-filled trailer of the movie to excite people for the December 24th Japanese theater release. Released. It was also announced that the mainline Jujutsu Kaisen series will be staged.
Gege Akutami has decided to set the stage for "Jujutsu Kaisen". It will be performed in Tokyo and Osaka in July and August 2022.
This was announced today at the Jump Super Stage of "Jump Festa 2022" on December 19th. Directed by Kensaku Kobayashi and written by Kohei Kiyasu. Along with the announcement, the official website of the stage and the official Twitter account will also open. Stay tuned for more details such as the cast.
"Jujutsu Kaisen" is a dark fantasy that depicts Yuji Itadori, a high school student who has stepped into the world of battle over curses. It has been serialized in Weekly Shonen Jump (Shueisha) since March 2018, and with 18 volumes released on December 25, the cumulative circulation of the series will exceed 60 million including the digital version. Also, on December 24th, the movie "Theatrical Version Jujutsu Kaisen 0" will be released.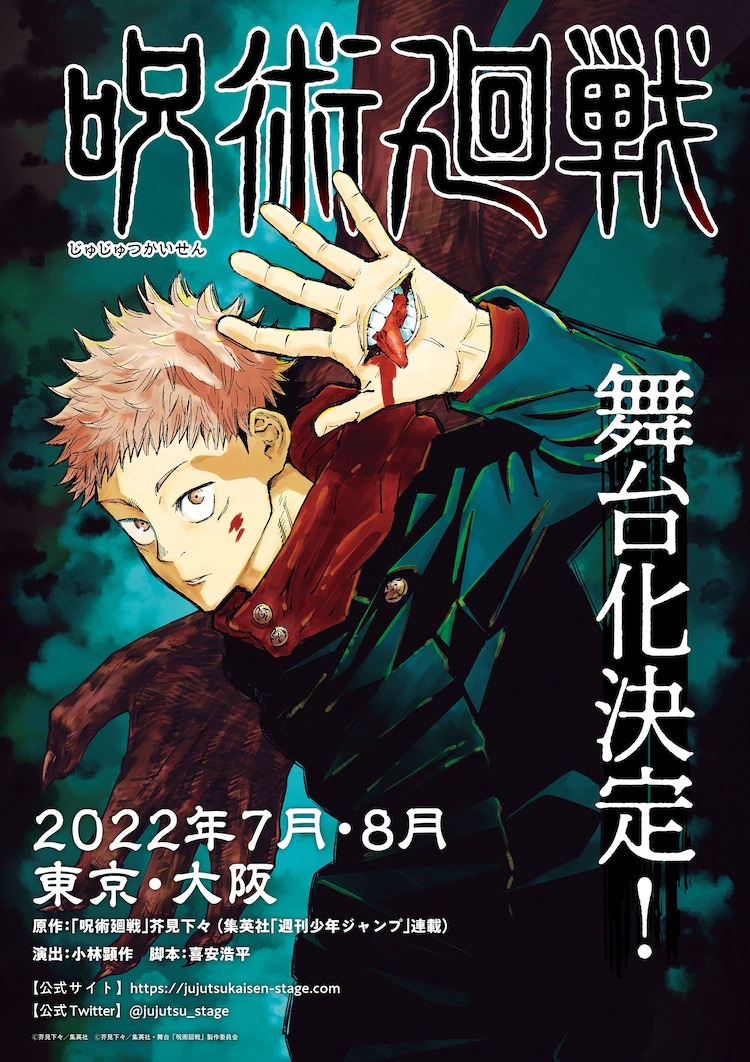 Performance time: July, 2022
Performance venue: Tokyo, Osaka
Original: " Jujutsu Kaisen " Gege Akutami (serialized in Shueisha "Weekly Shonen Jump")
Director: Kensaku Kobayashi
Screenplay: Kohei Kiyasu
Source – Comic Natalie, JUJUTSU KAISEN on Twitter, ViaJump Festa 2022