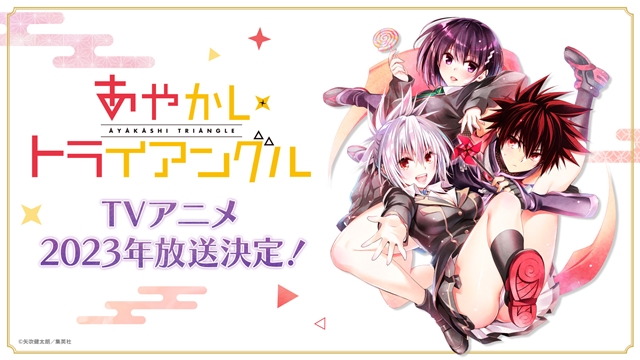 It has been revealed that the TV anime " Ayakashi Triangle " based on the original work by Kentaro Yabuki will be broadcast in 2023. "Ayakashi Triangle" is an "Ayakashi love fantasy" that depicts the Kazemaki festival of "Harare Shinobu" who keeps fighting to get rid of the youkai that are harmful to the human world.
It is being serialized in Shonen Jump +. The latest information will be announced on the official anime website and official Twitter account (@ayakashi_anime). Ayakashi romance fantasy presented by the original Kentaro Yabuki! The long-awaited TV animation decision!
RELATED | Studio Pierrot Launches YouTube Channel to Stream Free Classic Anime
How is Ayakashi romance fantasy drawn by Kentaro Yabuki of "To LOVE-Ru" in TV anime ?! Please stay tuned! Please keep an eye on the latest information on the official website and official Twitter.
Kaede Shinobu's Kazemaki Matsuri, whose livelihood is to exorcise youkai that are harmful to humans, protected the flower tin, which is a childhood friend and is easily liked by youkai.
It looks like a cat, but it's a youkai called Shirogane who continues to reign at the top of the youkai …! Kentaro Yabuki of "To LOVE-Ru", a new frontier! Ayakashi romance fantasy, a long-awaited animation decision!
Source: Crunchyroll