Anime Manga News
Netflix
Kyohei Ishiguro-directed Netflix's Bright: Samurai Soul Anime Film Reveals PV, Cast & October 12 Release
Netflix today announced that Bright: Samurai Soul, an anime spinoff of the 2017 Will Smith-starring original sci-fi film Bright, will air worldwide on October 12, 2021. Its story takes place in Japan since End of the Edo period to the Meiji period, depicting Izou, a ronin who lives as a gorilla, and Raiden, an orc assassin, who launches into a fierce battle to protect an elf girl named Sonya from their common enemy.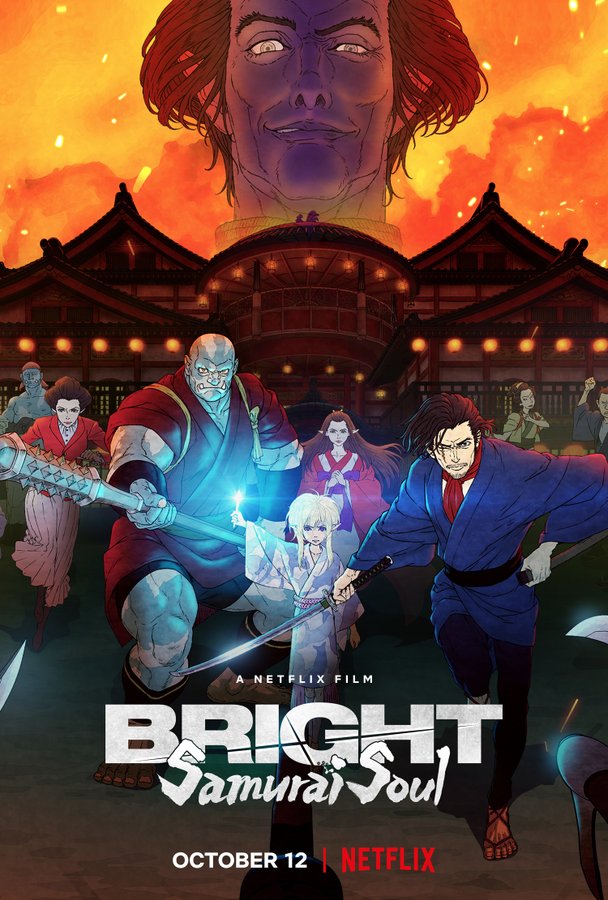 In the Japanese dub, Izou is voiced by 21-year-old young kyogen actor Yuki Nomura, who is the grandson of Mansaku Nomura, a living national treasure. This is his first voice acting job. Daisuke Hirakawa (Noriaki Kakyoin in JoJo's Bizarre Adventure: Stardust Crusaders) plays Raiden, and Shion Wakayama (Yume Minami in SSSS.DYNAZENON) plays Sonya. In the English dub, Simu Liu, Fred Mancuso, and Yuzu Harada are cast as Izou, Raiden, and Sonya, respectively.
Kyohei Ishiguro, known for his acclaimed directorial work for Your Lie in April (2014-2015), Children of the Whales (2017), and the more recent film Words Bubble Up Like Soda Pop (2020) acts as a director in a Michiko's script. Yokote (SHIROBAKO). ARECT, a Hokkaido-based 3DCG company that previously produced CGI for Attack on Titan: The Final Season and ZOMBE LAND SAGA REVENGE, is working on anime production.
Bright is a 2017 American urban fantasy action film directed by David Ayer, written by Max Landis and starring Will Smith, Joel Edgerton, Noomi Rapace, Lucy Fry, Édgar Ramírez, and Ike Barinholtz. The film is set in an alternate present where humans and mythical creatures coexist and details an LAPD police officer and his fellow orc facing racism and police corruption while protecting a magic wand and the elf girl wielding it. .
Principal photography began in November 2016 in Los Angeles. The film was released worldwide on Netflix on December 22, 2017. While it has received largely negative reviews from critics, it has become one of the most-watched movies on Netflix.
Source – Netflix official YouTube channel (English, Japanese), Netflix Japan anime official Twitter, Netflix Geeked