Anime Manga News
Nanaraki ~Seven Lucky Gods~ Short Anime Bleases Youtube, 27th April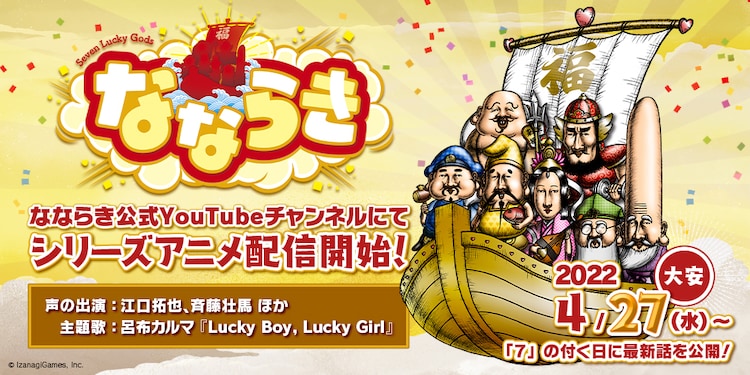 It is revealed that the short animation "Nanaraki ~ Seven Lucky Gods ~" will be distributed on YouTube from April 27th. At the same time, PV was released.
"Nana Nara-Seven Lucky Gods-" depicts the lazy days of the Seven Lucky Gods who lost their faith in the people and fell from that world to this world. Starting with the first episode released on April 27, the latest episode will be delivered on "Congratulations with" 7 ".
The role of Ebisu will be Takuya Eguchi , the role of Daikokuten will be Soma Saito , and the role of Fukurokuju will be Yano .
Masaaki, the role of Budai is Daichi Hayashi, the role of Benzaiten is Yoshinobu Aoyama, the role of Bishamonten is Masashi Yamane, the role of Jurojin is Shinya Takahashi. Comments have arrived from Director Taniguchi and Umeda.
READ | List of Anime Available On Muse Asia YouTube Channel
The theme song will be "Lucky Boy, Lucky Girl" by Ryofu Karuma (one o the most popular rapper). Furthermore, in the note, the novel "Nanaraki-Seven Lucky Gods and the Nananoya-" depicting the human family, the Nananoya, will be released the day after the animation release date.
And on the official anime Twitter (@nanaluckygods), a follow & retweet campaign is being held until 23:59 on July 7. One of the applicants will be selected by lottery to receive a poster signed by the cast members.
Source: Anime News Network