(Last Updated On: August 23, 2021)
The main visual of the stage "My Hero Academia" The "Ultra" Stage by Kohei Horikoshi has been released.
The performance will be performed at TOKYO DOME CITY HALL in Tokyo from December 3rd to 12th, and at the Kyoto Theater from December 24th to 26th. Performance details and additional casts were also released along with the main visual. It is also clear that a new performance will be performed in the spring of 2022.
This year's 38th issue of Shueisha's Weekly Shonen Jump magazine revealed on Monday that adaptations of Kōhei Horikoshi's My Hero Academia manga play will get a new job in spring 2022. theater revealed a new look for the new job.
Returning staff members include Tsuneyasu Motoyoshi as director, Hideyuki Nishimori as screenwriter, Shunsuke Wada as composer, and Takuya Shiono (Umebō) as choreographer.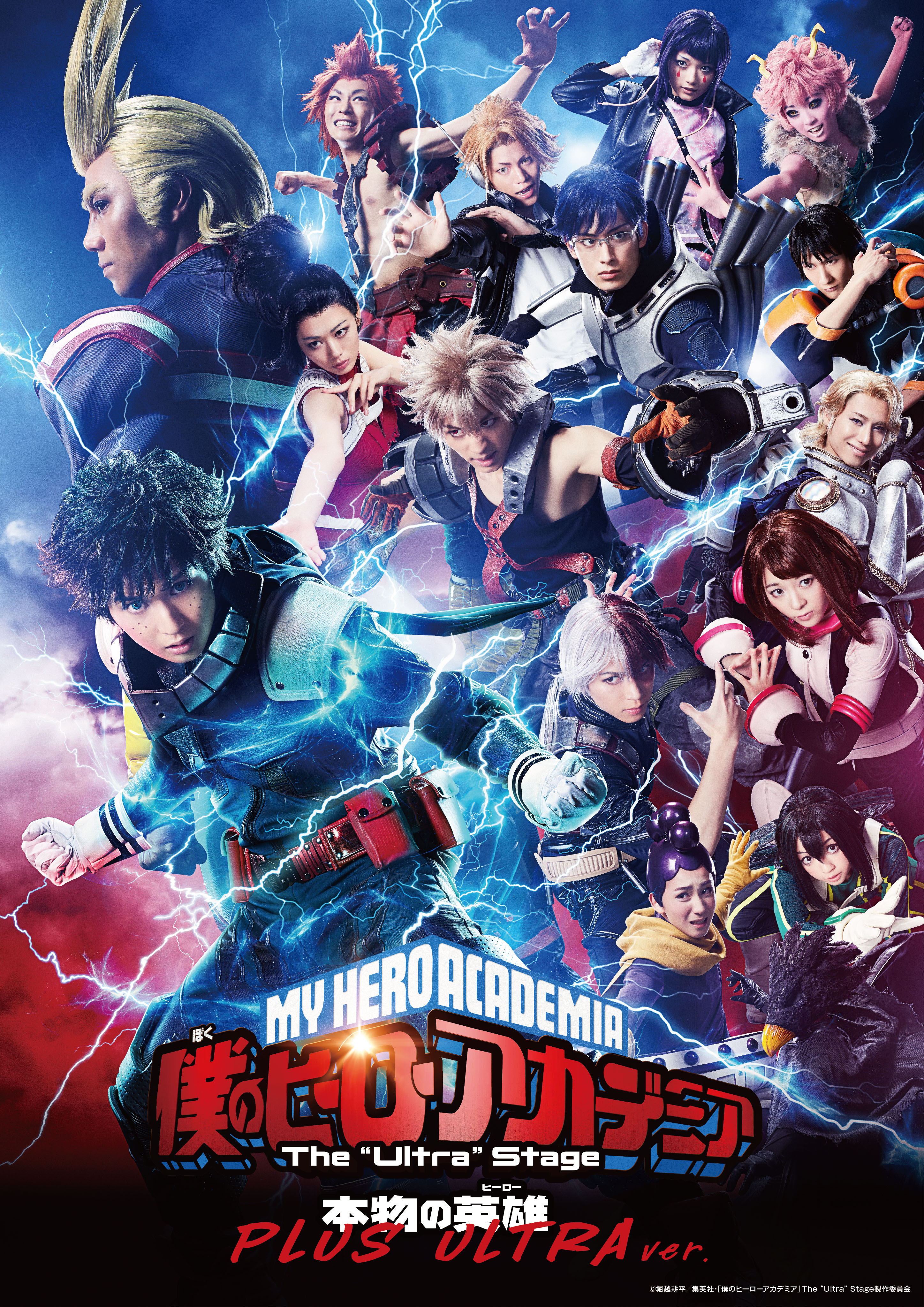 Midoritani Dehisa: Tamura mind
爆豪Katsumi: Ryota Kobayashi
Urarabi Ochako: Yume Takeuchi
Iida Ten哉: Takeko Naoki
roar Aseko: Ryo Kitamura
frog吹梅rain: Noguchi Mao
Setsushima Surudojiro: Naoki Tanaka
above tinnitus Electric: Sato Yuware
Aoyama elegance: Shinichi Hashimoto
8000100: Yamazaki Shairodori
Minoru Mineta: Okui那我people
Tokoyami踏陰: Rin Matsubara
Mimiro HibikiKaoru: Kawakami Akira莉
Seraryo HanFutoshi: Shin Ikeda
Ashito Mina: Nagatoshi Yuhi
death pattern Sulfur butterfly: Raita
stain: Kawasumi YoshiMakoto
cremated: Yuta Osumi
Togahimiko: Ange Iha
Twice: Yusaku Kawasaki
Gran Torino: Kousuke Yonehara
eraser-head: Yusuke Seto
gifts microphone: Yuki Okamoto
Endeavor: Ueda, Yusuke
Best Gee percussionist: to Chang
Midnight: Umi Kiuchi
All Might (True Form): Yu Yoshioka
All Might (True Form): Hiroaki Iwanaga
All Rounders: Shota Fukui , Ken Tanabe, Akiyoshi Tsujimura, Kiyoshi Kawashima Toru
Hagakure (Voice Appearance): Kaori Nazuka
The play was scheduled to run at Tokyo Dome City Hall in July 2020. However, the production committee confirmed in July 2020 that a person involved in the production had tested positive for the novel coronavirus (COVID-19). After another person involved in the work tested positive days later, the staff decided to delay the work.
The franchise's second play, My Hero Academia: The "Ultra" Stage: Honmono no Hero (A True Hero), was scheduled to run in Tokyo and Osaka in March and April 2020. Most performances were canceled due to to the spread of COVID-19. My Hero Academia: The "Ultra" scenario: Honmono no Hero PLUS ULTRA ver. is the "full version" of the play and will feature the villains Dabi, Himiko Toga and Twice, who were scheduled to appear on "The 'Ultra' Live." The villains will have more power in the new version of the play.
My Hero Academia: The "Ultra" Stage, the manga's first play, ran in Tokyo and Osaka in April 2019. Live Viewing Japan streamed the play online from August 13-19.
My Hero Academia is a Japanese superhero manga series written and illustrated by Kōhei Horikoshi. The story follows Izuku Midoriya, a boy born without superpowers (called Quirks) in a world where they have become commonplace, but still dreams of becoming a superhero. He is scouted by All Might, Japan's greatest hero, who chooses Midoriya as his successor and shares his Quirk with him after recognizing his potential, and later helps him enroll him in a prestigious high school for heroes in training.
Source – Weekly Shonen Jump issue 38, My Hero Academia stage plays' website, Comic Natalie
Also, Check-Out: