The official site for the Record of Ragnarok anime adaptation has announced a world premiere date for June 17 via Netflix. To celebrate the release date confirmation, a new trailer was also released along with updated key art and the main cast roster. First, the updated key art and new trailer can be found below:
Far above the human realm, the gods of the world gathered to determine a single problem, the survival of mankind. Under Zeus's head, especially ancient Greek, Norse mythological, and Hindu gods convene a millennial rally to determine the fate of mankind. Due to the relentless abuse of each other and the planet, the gods now unanimously vote in favor of ending humanity.

But before the term elapses, Brunhilda, one of the thirteen half-gods Valkyrie, offers another suggestion: instead of annihilating humanity in an anti-climatic way, fight them and represent Ragnarok. Would you like to give us an opportunity? Man and god? Spurred by the boldness of the challenge, the Council of God immediately agreed and was completely confident that this contest would showcase the absolute power of the gods. To get the chance to confront the mighty heaven, Brunhilda needs to bring together the greatest people in history. Otherwise, the death penalty will certainly ring for humanity.

Plot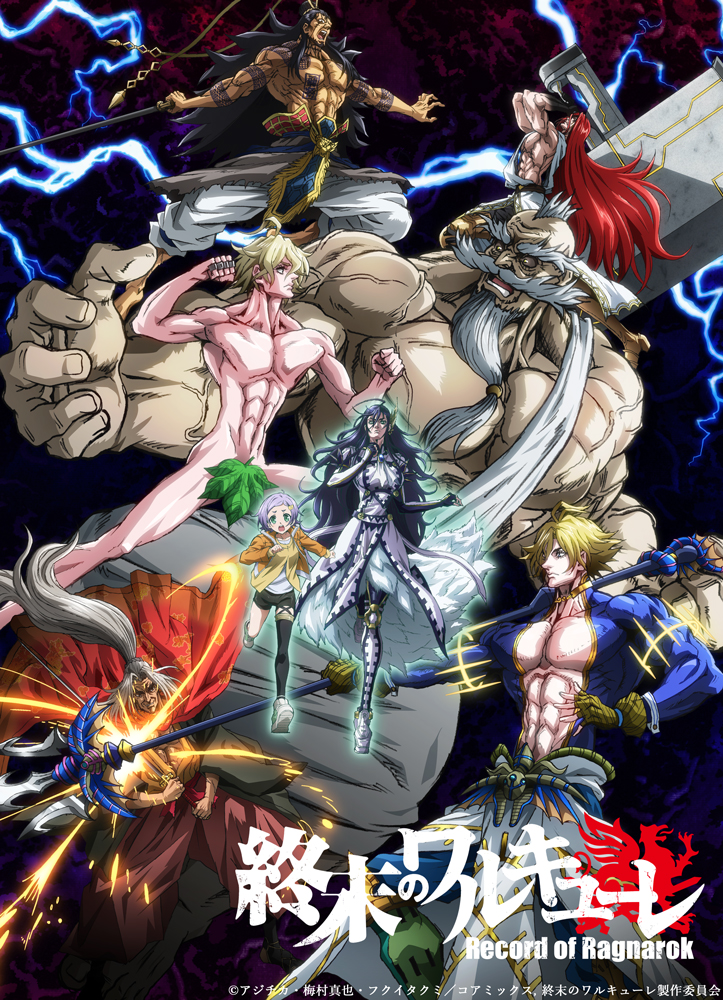 Staff:
Directed by: Masao Okubo
Series Composition: Kazuyuki Fudeyasu
Character Design: Masaki Sato
Sub Character Design: Shigeo Akahori, Hisashi Kawashima
Color Setting: Yumi Uchibayashi
Art Director: Shinobu Yamaguchi
3D CGI Director: Ryoichi Takeyama
Director of Photography: Yukihiro Masumoto
Editing: Ayako Tan
Music: Yasuharu Takanashi
Sound Director: Yasunori Ebina
Animation Production: Graphinica Inc.
Cast:
Brunhilde: Miyuki Sawashiro
Göll: Tomoyo Kurosawa
Lü Bu: Tomokazu Seki
Adam: Soma Saito
Kojiro Sasaki: Kazuhiro Yamaji
Thor: Hikaru Midorikawa
Zeus: Wataru Takagi
Poseidon: Takahiro Sakurai
Hermes: Junichi Suwabe
Heimdall: Yukihiro Nozuyama
Odin: Show Hayami
Shiva: Tatsuhisa Suzuki
Aphrodite: Rie Tanaka
Loki: Yoshitsugu Matsuoka
Odin: Show Hayami
Ares: Hinata Tadokoro
Huginn: Taisuke Nakano
Muninn: Tomohiro Yamaguchi
Randgrid: Aya Kawakami
Reginleif: Rina Kawaguchi
Hrist: Yu Kobayashi
Record of Ragnarok / Shūmatsu no Walküre (終末 の ワ ル キ ュ ー レ, Shūmatsu no Warukyūre, lit. "Valkyrie of the End"), is a Japanese manga series written by Shinya Umemura and Takumi Fukui and illustrated by Ajichika. It began in Coamix's seinen manga magazine (previously also published by Tokuma Shoten) Monthly Comic Zenon in November 2017. An adaptation of Graphinica's anime television series will premiere in 2021.
Source – Record of Ragnarok official site via Crunchyroll
Also Check Out