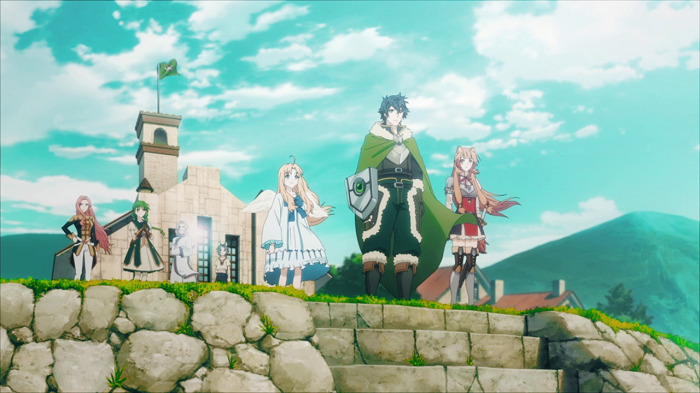 "The Rising of the Shield Hero" is a fantasy that begins when Naofumi Iwatani, a university student summoned to another world as a "Shield Hero", goes on an adventure and loses all his friends, money, and position within a few days.
In the second phase, the figure of Naofumi who received a request to subdue the monster, Spirit Turtle, which causes an unprecedented disaster, is drawn on the stage of the spirit turtle country to the east of Merlomark.
RELATED: Top 25 Best Action Adventure Anime To Watch !! 2022
The visual this time is a finish that symbolizes the new battle of Naofumi and others. Also, in the third PV, Fujikawa, a drama focusing on Lithia, who became a companion to the hero of the shield, will be developed.
In the first episode, "New Roar," which will be broadcast and distributed on April 6, when Naofumi is preparing for the next "wave," mysterious monsters will appear, and at the same time, a countdown to the "wave." Will stop. Suddenly, the Four Cardinal Heroes called by Miller were told that the legendary monster, Spirit Turtle, had been resurrected.
RELATED: Black Summoner Isekai Novel's TV Anime Announced
In addition, the first volume of the TV anime "The Rising of the Shield Hero Season 2" Blu-ray / DVD will be released on July 27, the second volume on August 24, and the third volume on September 28. Is decided.
As the first production privilege, an outer case drawn by Seira Yanan, who handles the original illustration, an inner case drawn by character designer Masahiro Suwa, and a booklet containing a novel written by the original author, Yusagi Aneko, were prepared.
In addition, as video benefits, Volume 1 is a non-credit opening video, episodes 2 to 4 preview videos, Volume 2 is a non-credit ending video, episodes 5 to 8 preview videos, Volume 3 Contains PV / CM collections and preview videos of episodes 9 to 12.
Source: Anime News Network