It turned out that the cumulative circulation of the comics of the manga "Tokyo Revengers" serialized in "Weekly Shonen Magazine" (Kodansha) has exceeded 25 million. The TV anime started in April, and the cumulative circulation at the end of March before the TV anime broadcast was about 10 million. Originally a popular work, the popularity of TV animation has helped, and the number of copies has doubled. A Kodansha representative is surprised that "a hit of this scale has been since 'Attack on Titan'." What supported the hit was the support of unexpected female readers.
The official Twitter account for Ken Wakui's Tokyo Revengers had announced in early June that the manga has more than 20 million copies in circulation. Wakui drew an illustration to commemorate that earlier milestone.
The manga had around 10 million copies at the end of March before the anime's premiere in April. Takuya Watanabe from Kodansha's sales department stated that it was the increase in female readership that supported the double circulation, which he said was due to the popularity of attractive characters.
こんなニュースを出していただいた直後ですが、またしても全巻重版がかかったと連絡がありまして、ざっくり累計2500万部くらいになりました😱

「3000万部ももうすぐかな?」と思うくらいには、感覚が麻痺してきております😆❗️

本当にみなさまのおかげです❗️
ありがとうございます❗️✨✨ https://t.co/RoFV0sn2Z0

— 東京卍リベンジャーズ【公式】 (@toman_official) June 30, 2021
Marketing firm AMF reported Wednesday that Tokyo Revengers was the No. 2 buzzword in the item category among Japanese middle and high school students in the first half of 2021.
The 25 million are for circulating copies that are not necessarily sold all, and are not printed and sold copies. The number is not a sales statistic.
When Kodansha announced that it would release a set of the manga's first four compiled book volumes with covers featuring the live-action film's cast, pre-orders quickly sold out. Reprints have already been decided ahead of Wednesday's release.
Wakui launched the manga in Kodansha's Weekly Shōnen magazine in March 2017, and Kodansha published volume 22 of the manga's compiled book on April 16.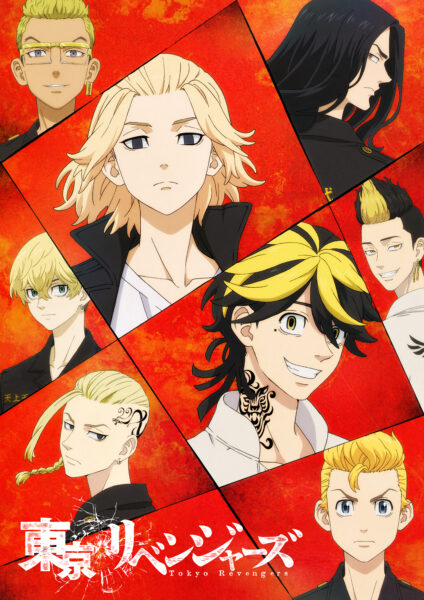 Takemichi Hanagaki travels back to his second year of school after he was pushed onto the tracks, in front of a train. The second year of his school life was his prime time. He had friends, a girlfriend, and respect. Unfortunately, his girlfriend died as she got involved in a vicious murder by Tokyo Manji Gang. determined to save her, Takemichi resolves to protect her from the Tokyo Manji Gang.

Tokyo Revengers Story
The anime debuted on the MBS channel on April 10. Crunchyroll is streaming the anime as it airs in Japan. Well, if you can't wait for the next episode, here are some recommendations that are similar to Tokyo Revengers.
This action anime is without a doubt one of the best series going on right now. It is a time travel anime, but the setting and atmosphere are different.
Source – Tokyo Revengers manga's Twitter account (link 2), Mainichi Shimbun's Mantan Web, PR Times via Animenewsnetwork