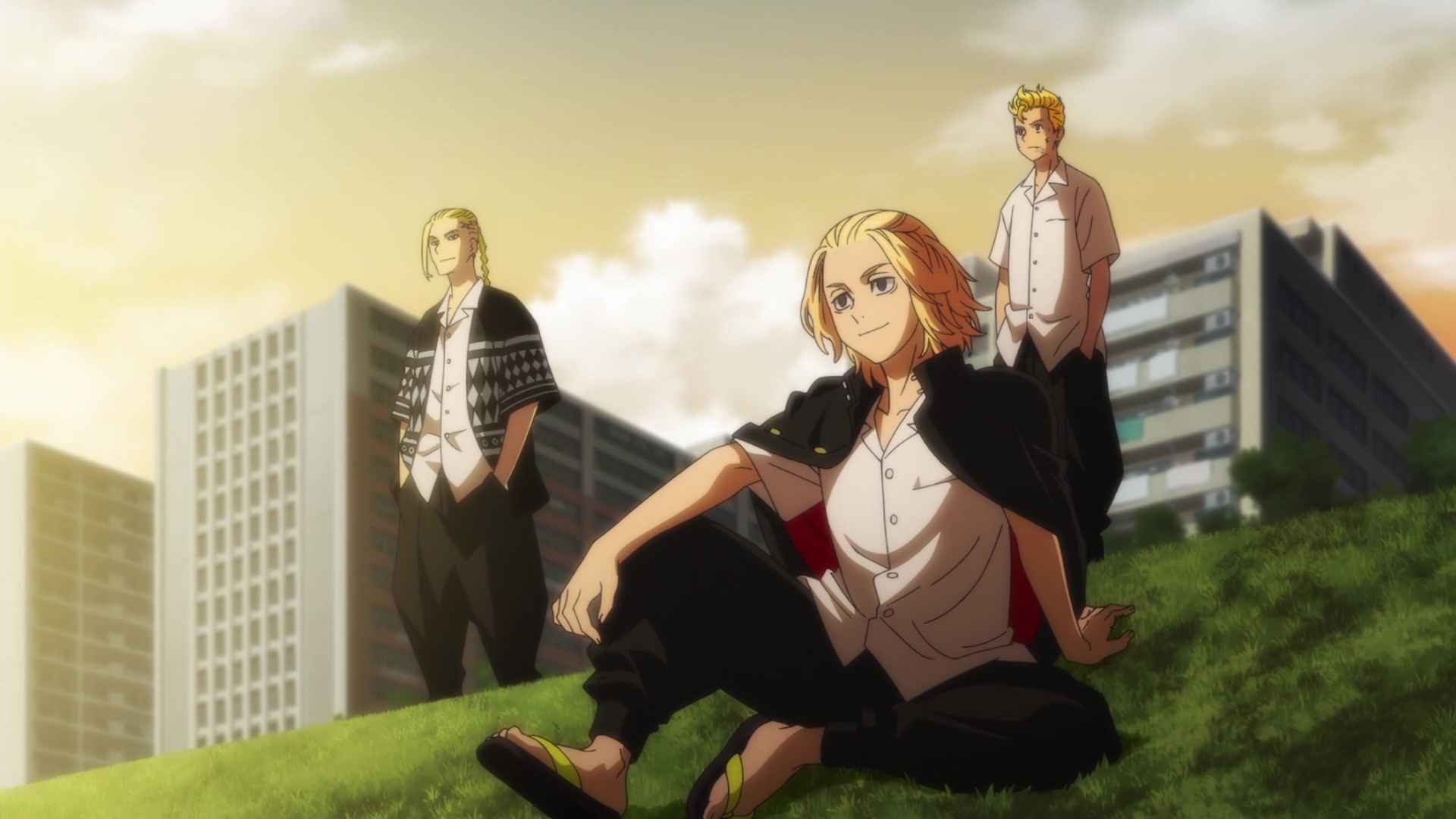 Tokyo Revengers, an ongoing series, is currently the topic of most of the conversations. This action anime is certainly one of the best ongoing series right now. It is a time-travel anime, yet the setting and the vibe are different. Takemichi Hanagaki travels back to his second year of school after he was pushed onto the tracks, in front of a train. The second year of his school life was his prime time. He had friends, a girlfriend, and respect. Unfortunately, his girlfriend died as she got involved in a vicious murder by Tokyo Manji Gang. determined to save her, Takemichi resolves to protect her from the Tokyo Manji Gang. Well, if you cannot wait for the next episode, here are some recommendations that are similar to Tokyo Revengers.
10. Orange
Orange is a sci-fi romance series from Funimation and Crunchyroll. The theme of the series is similar to Tokyo Revengers that is time travel. The method of time travel is quite different from the one in Tokyo Revengers, but the vibe is similar. The MCs share a similar vibe, only the method of time travel is different. In this case, it is via a letter.
Naho Takamiya's first day of her second year at school turned out to be quite different from expected. She receives a letter addressed to her, by her from 10 years ago. At first, she ignores it but later believes it as some events happen as described in the letter. The letter informs her that her future life is full of regrets. She, now hopes her past self to correct the mistakes, she made in the past, which mostly revolve around the new transfer student – Kakeru Naruse.
9. Kyou Kara Ore Wa!!
Kyou Kara Ore Wa is similar to Tokyo Revengers since they both share delinquents. Kyou Kara Ore Wa does not contain the time travel setting but is more focused on the slice-of-life comedy genre. The hot-blooded delinquents provide a suitable setting for the comedy genre.
Two Transfer Students, Mitsuhashi Takashi and Itou Shinji, tired of their boring lives decide to take advantage of the opportunity as they arrive at a new school and stir up their lives by becoming delinquents. Shinji's justice and Takashi's mischievous ways, antagonize each other at the beginning, but later become friends. The duo set on various misadventures to become the best delinquents in Japan.
8. Rainbow
Rainbow is a seinen thriller anime by Studio Madhouse. Rainbow also shares a set of delinquents, sharing the similarity with Tokyo Revengers. Rainbow follows a much darker storyline than Tokyo Revengers, giving it the seinen tag. Hence, it is not for the kids.
Mario Minakami, along with five other teenagers, is arrested and arrives at Shounan Special Reform School. Assigned to the same cell, they meet an older inmate – Sakuragi and form a close bond. They promise to meet each other after serving their sentences. They must also face the humiliation and suffering inflicted upon the sadistic guard and the brutal doctor. They must bear it until their sentences are up.
7. Samurai Champloo
Samurai Champloo is an action-comedy anime from Funimation. Samurai Champloo does not have delinquents, neither does it have a time-travel story. But still, it is similar to Tokyo Revengers, as the samurais fill up the delinquents' role perfectly. In this anime, the samurais are the delinquents.
Mugen and Jin are two samurai who are to be executed since, in a brawl, they ended up killing a magistrate's son. They are saved by Fuu, a young and clumsy waitress, due to whom they were fighting in the first place. Fuu appoints them as her bodyguards and sets on for a journey to find the samurai who smells of sunflowers. The trio embarks on the journey to find the samurai- that is if Fuu can stop them from killing each other.
6. Gokusen
Gokusen also shares the delinquent setting with Tokyo Revengers. It follows a more comedy genre than the drama genre in Tokyo Revengers. It follows the story of a teacher who gets appointed in an all-boys school that is full of delinquents.
Kumiko Yamaguchi, a math teacher, gets her dream job as a teacher at Shirokin Academy. But, on her first day, she realizes that the school is filled with delinquents with no intention of improving. However, the students are unaware of the fact that Kumiko is the leader of a yakuza gang and has the strength to prove it.
5. Charlotte
Charlotte is a drama school anime by Studio P.A. Works. It is a superpower anime that could, at first glance, be nowhere near the Tokyo Revengers. Although, those who have seen it, could relate to how similar they might be. The MC becomes a sort of delinquent later in the series, although for some time. It would be a major spoiler if we rolled out how they are similar in some aspects.
Yuu Otasaka, at first glance, might look like a normal high-schooler, but he hordes a special power that lets him take control of any individual for 5 seconds. When Nao Tomori catches Yuu using his power, she forces him and her sister Ayumi to transfer over to Hoshinoumi Academy, a school for students with superpowers. The Student Council, led by Nao Tomori, secretly tracks teens who abuse their power. Yuu is forced to work with them that brings him closer to the real truth regarding his powers.
4. Re-Life
Re-Life shares the time travel similarity with Tokyo Revengers. It is very similar to Tokyo Revengers since it shares quite a lot of resemblance with it. It is a romantic anime by Studio TMS Entertainment. The characters are similar and have a lot of resemblance with Tokyo Revengers.
Arata Kaizaki is dismissed as a hopeless loser in his life. One day, he meets Ryou Yoake, who offers him a mysterious pill to change his life for the better. Arata immediately takes the pill and wakes up as a 17-year old. He is now a subject of an experiment and has to attend a school as a transfer student for a year. It is now up to him to adjust to the new lifestyle and avoid making past mistakes.
3. Re: Zero
Re: Zero- Starting Life In Another World is one of the most famous isekai anime. It is a thriller fantasy anime from White Fox Studio. It is one of the best isekai anime among the other masterpieces. They both have similar emotional MCs, who easily burst into tears. The time-travel element in Re: Zero is a bit different. It is called "Return By Death". Natsuki Subaru, the protagonist of Re: Zero, recently won the Best Male Character Award for Winter 2021.
Natsuki Subaru gets teleported to another fantasy world just as he left the convenience store. Though his arrival was not all that fortunate, as he arrived, he was confronted by some thugs. In pursuit of another thug who stole her Insignia, a girl named Satella arrived and saved him. To thank her, he helps her in finding her insignia. Later, in the night, they found the whereabouts of her insignia. But, a darker force arrives and brutally murders them. However, Subaru rewakes and finds himself in a familiar scene, confronted by the thugs.
2. Steins;Gate
Steins;Gate is one of the best thriller anime of all time. It is also probably the best time-travel anime of all time. Steins;Gate follows a sci-fi theme with the concept of a time machine. It also hordes some romantic aspects to lighten the overall mood of the series.
Okabe Rintarou, a self-proclaimed genius mad scientist, indulges in inventing futuristic gadgets. One of their gadgets is the "Phone Microwave", which performs the strange function of converting bananas into a green gel. This isn't something remarkable until a miracle happens and the lab members are thrown into a string of action as the Phone Microwave can send emails to the past, altering the flow of time. Okabe must bear the burden of holding the key to the flow of time.
1. Erased
Erased is a thriller supernatural anime. It is certainly one of the most underrated anime which needs more exposure. Erased could be the most similar to Tokyo Revengers since there is a lot of similarities between them. Both have a main character who goes back in time to save a person from their past. The main characters travel from their adulthood to their childhood.
Satoru Fujinuma has a special ability that sends him back five minutes back whenever a tragedy is about to happen. But, when he is wrongly accused of the murder of his close one, he finds himself back 18 years in the past. He realizes that the murder may be connected to the mysterious abduction of one of his classmates Kayo Hinazuki that took place when he was a child. This is his chance to make things right.
These were the most similar manga & anime series to Tokyo Revengers, in my opinion. Tokyo Revengers is one of the best new-gen series that holds a lot of potentials. What do you think about Tokyo Revengers? Tell us in the comments below. Also Check Out: