Based on Kenji Inoue and Kimitake Yoshioka's brilliant on-going Manga, Grand Blue acts as a potential of anime's comedic genre. Iori Kitahara enrolls at Izu University and moves in with his uncle's place. Iori ends up at the Diving Club full of naked muscular men. Living with his two female cousins, Iori spends the vast majority of his time trying to convince them that he is not actually a pervert. Grand Blue consistently makes you burst into laughter in almost every episode. This anime is all about comedy with little romantic aspects. This anime vastly deals with life around the sea, passion for diving, and the fun of college life. Anime fans who love Grand Blue's irreverent sense of humor will find this below list very helpful to watch more animes like Grand Blue.
13) Dive!!
Dive!! is another swimming anime that focuses on competitive diving. Tomoki Sakai is a 14 years old boy who has dedicated his whole life dedicated to diving. His meeting with a genius diver Yoichi Fujitani transforms his fate. Due to financial reasons, Mizuki Diving Club is on verge of shutdown. A second chance is given by the new diving coach on one condition: that the club sends one of their members to next year's Olympics as part of Japan's Olympic team.
Both anime's background feels almost the same but the psychology of both animes is quite different. Dive is a serious anime whether Grand Blue is more fun-oriented.
12) Harukana Receive
This anime's story happens in Okinawa, where Haruka teams up with Kanata to form a beach volleyball pair. Kanata, who couldn't handle the pressure because of her short height which has made her give up on beach volleyball already. But Haruka convinces her to step back on the sand once again for the junior tournament. Harukana Receive is a beach-oriented comedy that is very similar to Grand Blue. However, there are many things in common which are the sun, the sand, and the bikinis.
11) Free! – Iwatobi Swim Club
Free! – Iwatobi Swim Club is a visually cool swimming anime that shares competitive swimming interests. Similar to Grand Blue protagonist, Haruka Nanase loves water and has a passion for swimming. In their elementary school days, he competed and won several relay swimming race tournaments with his three friends Rin Matsuoka, Nagisa Hazuki, and Makoto Tachibana. After the bitter reunion, Haruka, Nagisa, and Makoto decide to form the Iwatobi High School Swim Club, but a fourth member is still missing. This anime's story revolves around members of a high school boy's swimming team. Free! is one of the only long-running animes about competitive swimming with multiple seasons and movies. In many ways Free! has many things in common with Grand Blue.
10) Love Hina
In his childhood, Keitaro was a friend of a little girl. At the time of their separation, the two made a promise to meet each other at Tokyo University when they grew up. Years later, after failing twice at his entrance exam, Keitaro's parents refuse to support him any longer. His grandmother gives him refuge and employment as caretaker of her inn, which just happens to serve as a female dormitory. The eclectic group of five tenants tease, annoy and berate him to no end. Still, Keitaro will not give up his promise to meet his childhood friend again, even though he fails to recall her name.
Both animes attract people ready to bear bare skin and both, apparently, attract various odd folk. Both animes have focused on more mature college students that still act like you would expect young people to act. Both shows have random comedy and fan service. But Love Hina is more focused on romance.
9) Amanchu!
Futaba Ooki with her urban background spends most days cataloguing her life through pictures on her phone. After moving to a seaside town, she gazes out over the vast expanse of sea and is impressed by its endless possibilities. Her quiet contemplation catches the attention of local diving enthusiast Hikari Kohinata. After finding herself in the same class as Futaba the next day, Hikari is drawn to her quiet and shy demeanor and affectionately nicknames her Teko, sparking a tender friendship. Struggling to adapt to the change of pace in her life, Futaba finds herself strung along by Hikari's vast energy and passion for diving. Amanchu is very similar to Grand Blue's setting and background. But, Amanchu often has less comedy than Grand Blue.
8) The Ping-Pong Club
The Inaho Junior High Ping-Pong Club tries to take back their ping pong practice room from rivals despite their differences. There are six members in the Ping-Pong Club. Among them, Maeno proves to be the most troublesome, discovering bizarre ways to distract the team each day. With the others contributing to these mischievous acts, Takeda—the captain of the club—tries his hardest to put up with the team's antics. But when popular vice-captain Yuusuke Kinoshita is being swept away by girls, he instead finds himself receiving support from the stern but resilient manager, Kyoko.
Despite the high probability of their team being dissolved, Takeda and his friends find themselves having to overcome numerous obstacles. Protagonists in both animes are related to the sports club. Both animes have crazy characters and hilarious comedic elements. Humor of both series is perverted and dirty.
7) Uzaki Chan wants to Hangout
As a fresher at college, Uzaki Hana reunites with Shinichi Sakurai, an upperclassman who was in the same club as her during her high school days. However, she was surprised to find that the once active senior has ended up becoming a "lonesome" student who has begun to prefer spending his free time in peace. Uzaki tries her best to keep Sakurai from being alone by convincing him to go to the movies and go to his part-time workplace.
Both animes which share the same theme of college students are extremely funny. Both occasionally crack adult jokes.
6) Genshiken
Sasahara Kanji, an introverted college freshman, hopes to join a club to share his secret thoughts about anime, manga, and gaming. He tries to find a club to fit in. One day, he happens to stumble upon the club known as the Society for the Study of Modern Visual Culture—also known as Genshiken—that serves to bring the full spectrum of otaku culture together. His first visit to the club, end up leaving the meeting in full denial of his otaku nature. After some time, Sasahara finds himself enjoying his time at Genshiken by immersing himself in an otaku lifestyle.
Genshiken and Grand Blue are arguably the best examples of college club life with full of chaotic life and complex web of relationships. Genshiken centers on otaku culture. Grand Blue has the theme of the Diving Club. Both animes focus on a certain group of people within a circle. Genshiken and Grand Blue are absolutely the finest adult comedic slice of life animes that currently exist.
5) Golden Time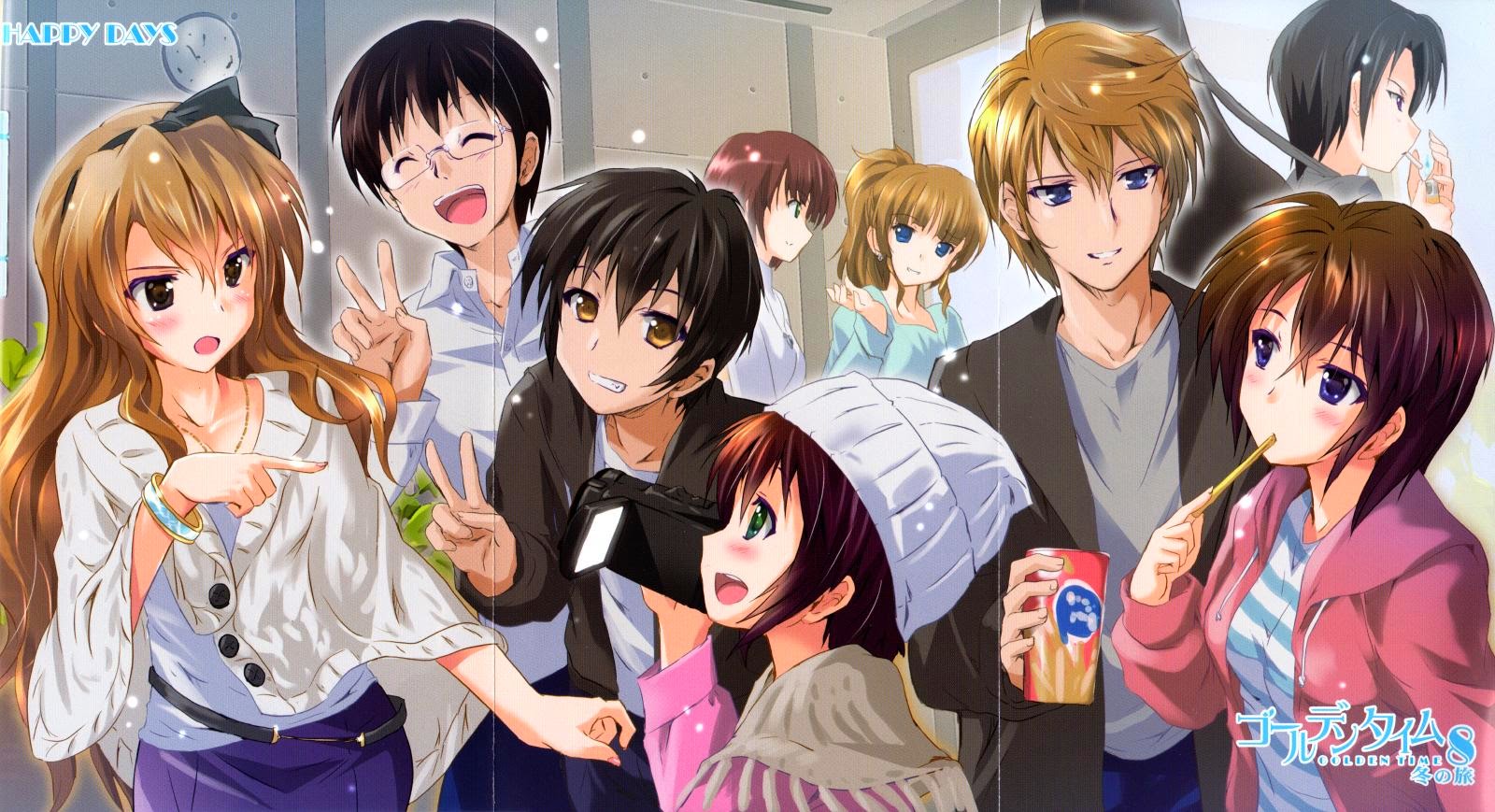 A tragic accident has caused Banri Tada struck with amnesia, dissolving the memories of his hometown and past. But, after becoming friends with Mitsuo Yanagisawa, he decides to move on and begins a new life at law school in Tokyo. At the beginning of his college life, his encounter with Kouko Kaga dramatically changes his unforgettable year.
Golden Time is a purely romantic story with psychological aspects. It is not as funny as Grand Blue but both share storyline which deals with college life. Though both animes share many common aspects, there are a lot of differences too.
4) Arakawa Under the Bridge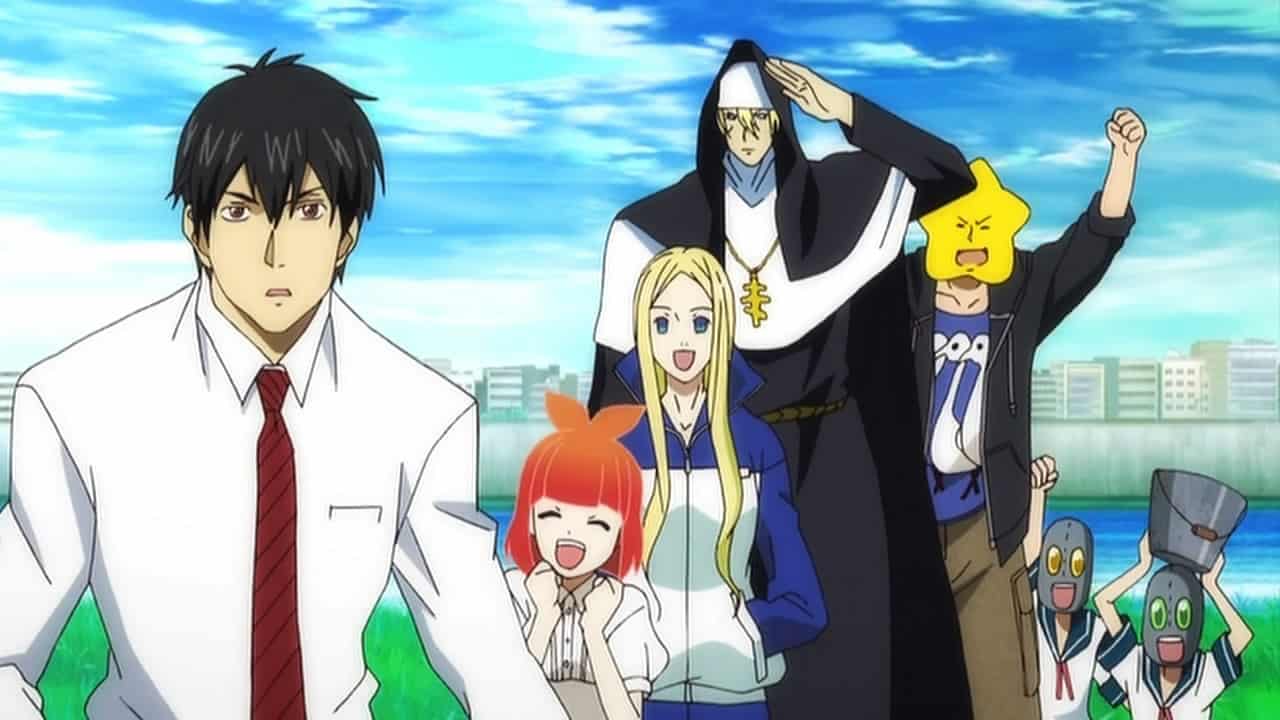 Son of a wealthy businessman, Kou Ichinomiya with his firm belief in his elite status, is determined to avoid becoming indebted to anyone. But one day on Arakawa Bridge, he ends up falling into the river running underneath. Luckily, a passerby saves him but he now owes his life to this stranger. After becoming angry, Kou insists on paying her back. But it turns out to be the worst deal the arrogant businessman has ever made. This homeless girl known only as Nino desires only to fall in love and asks Kou to be her boyfriend. Kou without any choice is forced to accept it. He moves out of his comfortable home and starts a new life under the bridge on the Arakawa River. In comparison to Grand Blue, both have lots of comedic elements. Though the setting and background of the story are different than Grand Blue. The similarities between the two are humor and artwork. Both are hilarious and full of many silly scenes.
3)The Kawai Complex Guide to Manors and Hostel Behavior
The girl in this anime, Ritsu Kawai is a book worm and the boy, Kazunari Usa has started to live in his new boarding house Kawai Complex because his parents work in a different area. Ritsu and Kazunari are from the same high school. Kazunari always tries to win Ritsu's heart by increasing more interaction between them. Kazunari sometimes fails to impress her. All the aspects from the romantic part to character development in this anime are very similar to Grand Blue. But the sea and beach life of Grand Blue is absent in this anime. The slice-of-life theme is quite similar between them but The Kawai Complex Guide to Manors and Hostel Behavior is more romantic on the contrary Grand Blue is more comedic.
2)Tsuritama
Yuki Sanada, socially awkward and anxious, struggles to fit in with his surroundings and moves with his grandma to settle into the charming seaside town of Enoshima for a fresh start. However, his reputation at school is jeopardized by the arrival of fellow transfer student Haru who declares Yuki as his friend. Pairing the reluctant Yuki with their classmate and fishing talent, Natsuki Usami, he tasks both of them with the absurd mission of saving the world from a mysterious threat in the ocean.
Both series focus on seaside activities. Very random comedy and a whole bunch of weird characters are the common aspects for both animes. However, Tsuritama has exposed less skin.
1) Daily Lives of High School Boys
Hidenori, the eccentric ringleader with a hyperactive imagination, the passionate Yoshitake, and the rational and prudent Tadakunire are three close comrades at Sanada North High School. In reality, they are just an everyday trio of ordinary guys trying to pass the time. Daily Lives of High School Boys is a sketch comedy about three friends attending an all-boys school.
Both series are directed by Takamatsu Shinji with similar comedic styles. Both series' male characters have a strong desire to date pretty girls, but in most cases, the dates will be destroyed by their buddies.