Anime is known for its eccentric and hyperbolized sense of humor and there are hilarious anime that can tap into comedy on another level.

However, it's important for a series to not just get laughs in the moment, but to continually build and get even funnier as it goes on.


Comedy anime provide you with great entertainment and laughter that helps you to reduce your stress levels.

Whether you're happy, sad, angry, bored, or confused, watch these anime and you'll forget everything else. After all, laughter is said to be the best medicine.

Without further delay let's get started with the top 22 Funniest Comedy Anime that will tickle your funny bone.
22. Barakamon
21. Kill la kill
20. Prison School
RELATED: Top 17 Anime/Manga With Fanservice
19. Mob psycho 100
18. Love is war
It is a rom-com anime produced by studio A-1 Pictures that aired from Jan 12, 2019 to Mar 30, 2019.

This anime follows two obstinate high school students who refuse to be the first to confess their feelings to each other.

The two try everything they can to deceive the other into confessing first, using their extraordinary skills and knowledge.

The love war between these two obstinate individuals will provide us with many hilarious and amusing moments.
RELATED: 10 Best Romance Comedy Anime | Must Watch Rom-Com Anime
17. No Game No Life
No Game No Life is a Studio Madhouse adventure comedy anime that aired from April 9 to June 25, 2014.

Sora and Shiro, two siblings and the online gaming partnership behind the infamous nickname "Blank," are the focus of this story. They consider the real world to be nothing more than a bad game.

However, they are challenged to a chess match by an odd email, which alters everything.

It's a short, colorful comedy series with a lot of fanservice and amusing characters that keeps you hooked on the show.
16. Space Dandy
It is an comedy sci-fi anime series produced by studio Bones that aired from Jan 05, 2014 to Mar 27, 2014.

Dandy, an alien hunter who is "a dandy guy in space," goes on a journey with his robot assistant QT and his feline-like buddy Meow in search of undiscovered and uncommon aliens.

This anime is jam-packed with amusing moments and fantastic jokes, which is exactly what we're searching for in this list.
15. Monthly girl Nozaki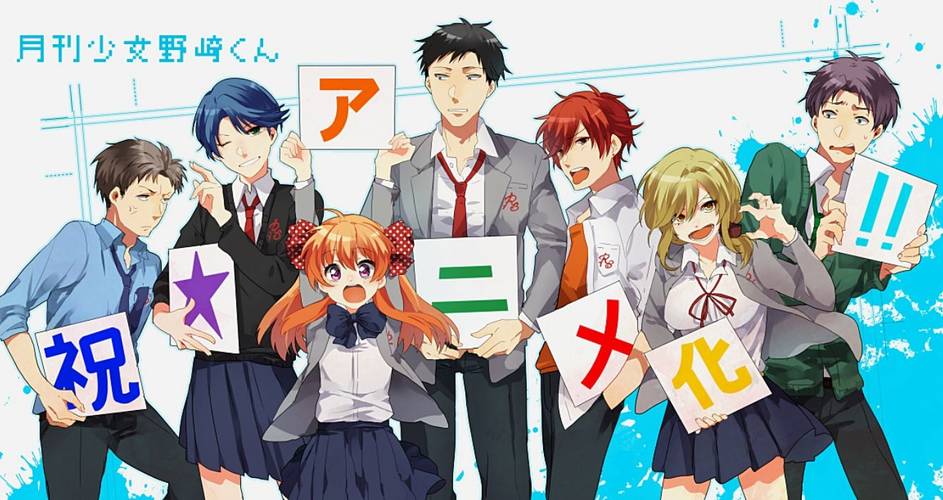 It is a rom-com anime produced by studio Doga Kobo that aired from Jul 07, 2014 to Sep 22, 2014

This series follows Chiyo Sakura, a high school student who confesses her feelings to her classmate Nozaki. Nozaki assumes Chiyo is just a fan due to a misunderstanding.

She later discovers Nozaki's secret identity as a shojo manga artist. So she works hard to assist Nozaki with his manga, hoping that he will eventually notice her feelings.

This is a hilarious comedy anime full of pure fun and innocent laughter that we don't see very often these days.
14. Cromartie High School
It is a shounen comedy anime written by Eiji Nonaka and directed by Hiroaki Sakurai that aired from October 3, 2003 to March 26, 2004.

The story follows the daily life of Takashi Kamiyama (a typical mild-mannered high school student) and his odd classmates at Cromartie High School, a notorious delinquent school.

Cromartie High School is an unique comedy anime with an over dramatic art style.
13. Sket Dance
It is a shounen comedy anime series produced by Tatsunoko Production that aired from April 7, 2011 to September 27, 2012.2

It follows the antics of the Sket-dan, a high school club whose mission is to assist Kaimei High School students and instructors with their difficulties by doing whatever it takes to make their campus a better place.

This series is so surprising and irrational that it makes you laugh till you're sick to your stomach.
12. Haven't You Heard? I'm Sakamoto
It is a comedy slice of life anime series produced by Studio Deen that aired from Apr 08, 2016 to Jul 01, 2016

Sakamoto, a cool guy, is the protagonist of this series. Despite the fact that it is only his first day of high school, his attractiveness, intelligence, and charm have the girls swooning and the guys fuming with jealousy.

Our protagonist is so amazing that the series is pretty funny as hell.
11. Devil is Part Timer
It is a comedy fantasy anime produced by studio White Fox that aired from Apr 04, 2013 to Jun 27, 2013.

The plot revolves around Satan's attempt to conquer the world of Ente Isla, but when confronted by the Hero Emilia, he is forced to flee through a portal that transports him to modern-day Tokyo, Japan.

This series contains so much humor to keep you entertained.
RELATED: Top 13 Must-Watch Isekai Anime & Manga !!
10. My Ordinary Life
It is a comedy slice of life anime series produced by Studio Kyoto Animation that aired from Apr 03, 2011 to Sep 25, 2011

The daily shenanigans of a trio of childhood friends Mio Naganohara, Yuuko Aioi, and Mai Minakami are the main focus of this series.

Which quickly intertwines with the young prodigy Hakase Shinonome, her robot guardian Nano, and their talking cat Sakamoto.

My Ordinary Life is a bizarre comedy that will have you laughing out loud.
9. Ouran Highschool Host Club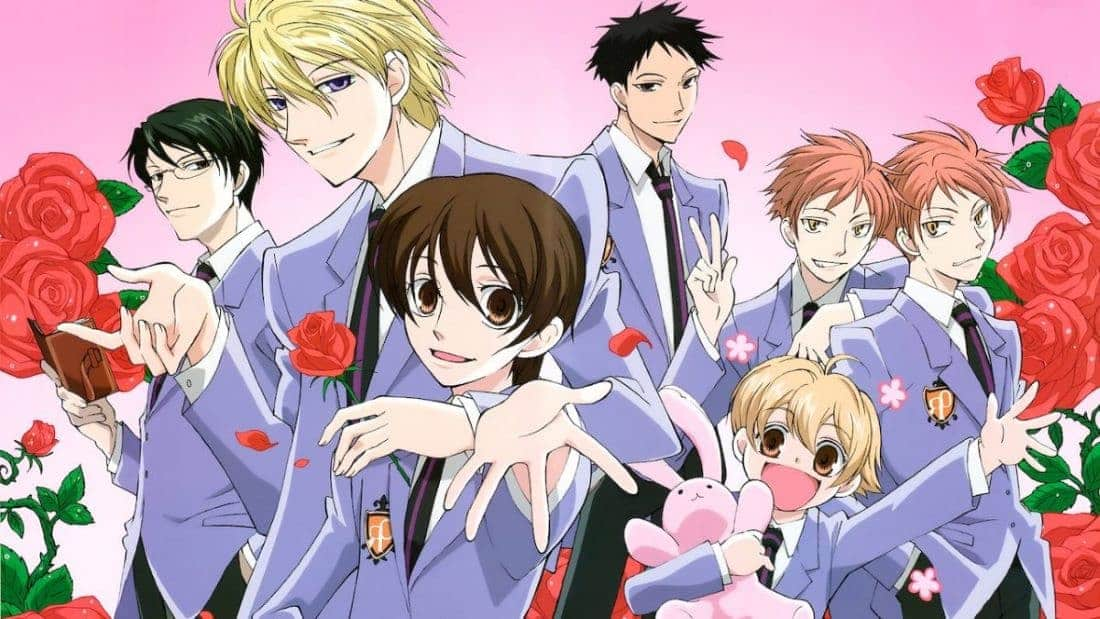 It is a rom-com anime produced by studio Bones that aired from Apr 05, 2006 to Sep 27, 2006.

Haruhi Fujioka attends Ouran Academy and is the protagonist of this series. Haruhi meets a group of lads known as the Ouran HighSchool Host Club while looking for a quiet area to study.

She becomes closer to the members of the host club as time goes on, and they become best friends.

Ouran Host Club is a hilarious shoujo anime packed with tons of funny moments.
8. Ghost Stories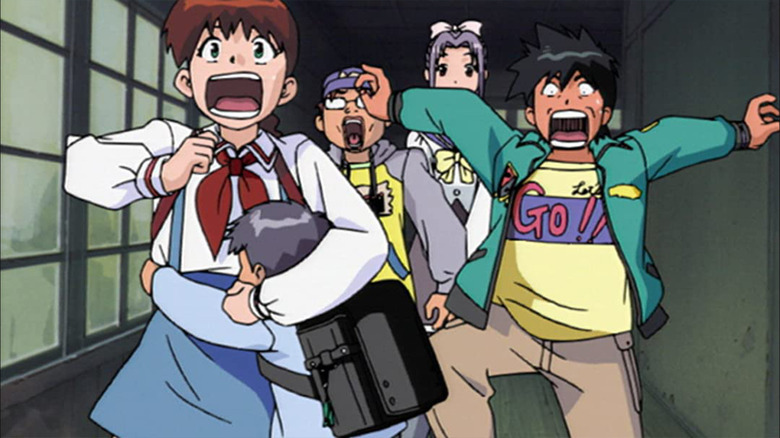 It is a Japanese anime television series based on Toru Tsunemitsu's books. Studio Pierrot produced the show, which aired from Oct 22, 2000 to Mar 25, 2001.

It shows the life of Satsuki Miyanoshita, who moves to her mother's hometown with her family. Where Satsuki's mother left behind a book with instructions on how to permanently expel the ghosts.

This story is straightforward, with no bad characters and a lot of amusing moments, making it one of the best lighthearted anime.
7. Detroit metal city
It is a 12-episode comedy seinen OVA (short type anime) that aired between August 8, 2008 and October 28, 2008..

Soichi Negishi, a sweet and soft-spoken young aspiring guitarist and vocalist who dreams of a career as a pop musician, is the protagonist of this series.

However, dreams don't pay the bills, he's now the lead singer and lead guitarist of "Detroit Metal City," a death metal band. He turns into an entirely different person on stage.

This comedic OVA is known for its vulgarity and the filthy jokes.
6. Daily Lives of High School Boys
It is a comedy slice of life anime series produced by Studio Sunrise that aired from Jan 10, 2012 to Mar 27, 2012.

The plot centers around the daily lives of three Sanada North Boys High School classmates, Tadakuni, Hidenori Tabata, and Yoshitake Tanaka, and their various interactions with other students at and around their school, as well as their coming-of-age efforts.

I assure you had a hard time holding back your laughter while watching this series.
5. Grand blue
It is a comedy slice of life anime series produced by Studio Zero-G that aired from Jul 14, 2018 to Sep 29, 2018.

This series follows a college student who spends his senior year in Izu, Japan, enjoying fun on the beach with his classmates.

This anime is mostly concerned with his entertaining characters and overall amusement for the audience. Which makes it a perfect Comedy series.
RELATED: Top 13 Best Anime like Grand Blue
4. Life of saiki k
It is a comedy supernatural anime series produced by Studio J.C.Staff Egg Firm
that aired from Jul 04, 2016 to Dec 26, 2016.

It follows the life of Kusuo Saiki, one of the high school students who was born having powers, including psychokinesis and teleportation. He attempts to hide it from everyone at school. He is put in several seemingly normal scenarios in which he uses it to hide his special powers.

It's a brilliant comedy series that is unique and lighthearted.
3. Great Teachers Onizuka
It is a comedy slice of life anime series produced by Studio Pierrot that aired from Jun 30, 1999 to Sep 17, 2000.

This series follows Eikichi Onizuka, a 22-year-old ex-gangster who decides to become a teacher at a private middle school in order to become the best high school teacher.

It's a fantastic choice if you're seeking for a school-related comedy anime that will make you laugh out loud.
2. One punch man
It is an action comedy anime series produced by Madhouse that aired from Oct 05, 2015 to Dec 21, 2015.

This story follows Saitama, an undefeatable hero who can defeat enemies with a single punch. As a result, he is frustrated because he no longer feels the thrill and adrenaline of fighting a difficult battle.

This anime is chock-full of laugh-out-loud moments and the show's fierce battle segments are beautifully balanced with the comic bits.
RELATED: Top 15 Anime/Manga Like One Punch Man
1. Gintama
It is an action comedy anime series produced by Sunrise that aired from Apr 04, 2006 to Mar 25, 2010.

The plot revolves around Gintoki, a handyman who has no regard for the rules imposed by the invaders and is willing to take any job to survive. He and his gang, on the other hand, are among the few who have not forgotten the morale of a swordsman.

It is one of the most popular action comedy series in anime history, capable of taking comedy to new heights. If you're looking for a fantastic action comedy anime, then this is your only option.