(Last Updated On: May 20, 2021)
Article By "9tails Apparels"
We share our amazing experience of having grown up watching anime through this blog.
Anime has influenced in so many ways, that we want you to experience this same feeling.
Believe me, there is lot to be explored in this form of japanese art that for so long has gone underrated in India.
So, put on your seat belt and let's explore it together.
In this article, we will be talking about Top 5 side characters in popular anime.
Yes, the side characters, because a lot has already been spoken about main characters through the years. It's time we acknowledged the contribution of side characters who have immortalised their part in the story. So here we go. Let's start in the reverse order.
5. Dr. Hiroshi Agasa (Detective Conan)
First of all, Detective Conan is a highly underrated anime. Fun fact – DC has aired over 950 episodes and is still going strong. With 24 movies and each movie grossing in billions on japanese box office, we feel it deserves more coverage in India. Now, let's talk about the pivotal side character to our protagonist Conan. Dr. Agasa is the first aide of Conan/Shinichi without whom the heroics of Conan would not be possible. Remember, all the cool sci-fi gadgets that conan exploits are all engineered by Dr. Agasa.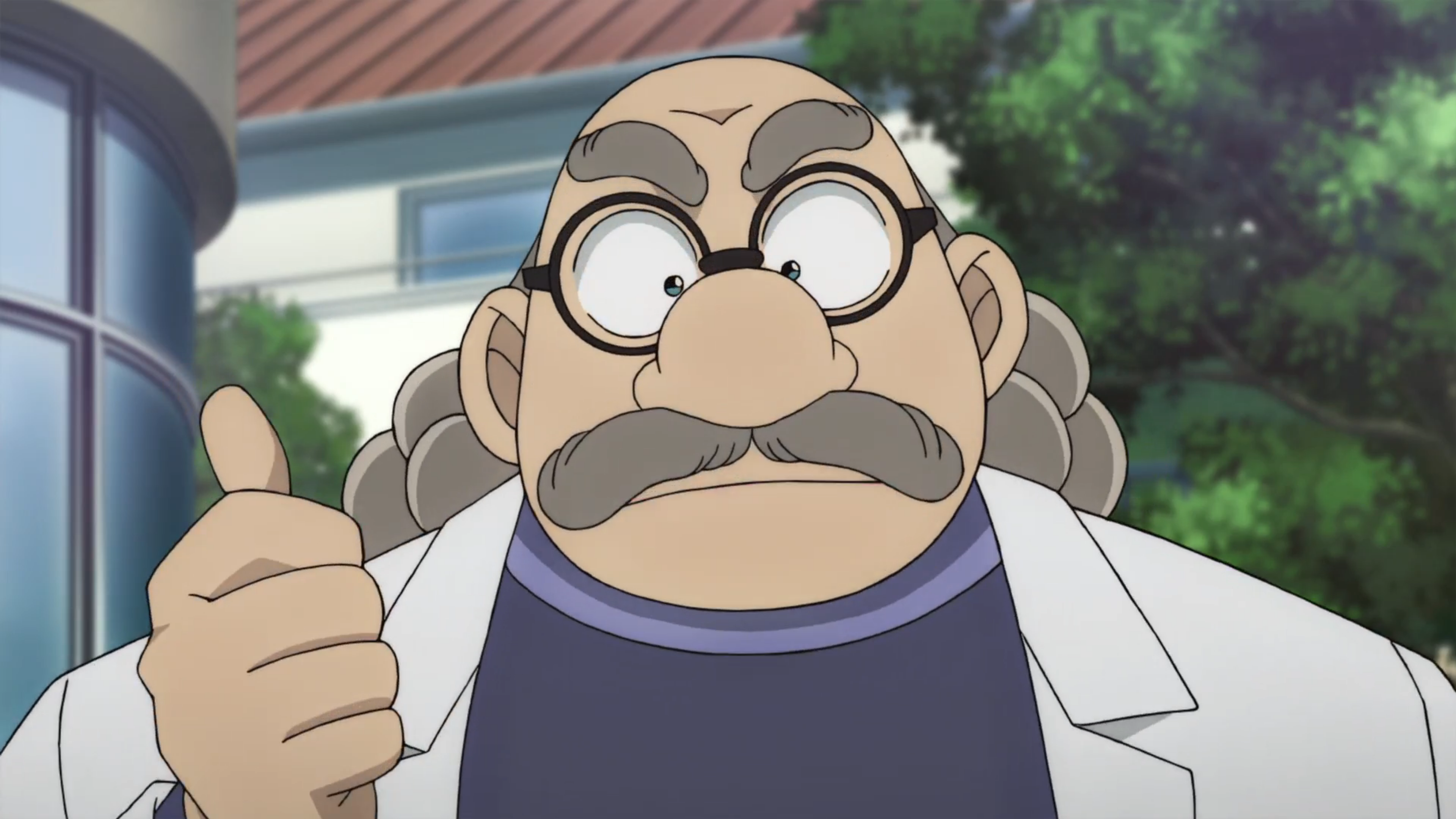 Our favorite are the stun gun watch and the solar powered skateboard. Would be amazing to have the stun watch in real life though xD. Apart from his lame puns, Agasa isn't given much spotlight in the story. That's we decided to include him in this list. If you haven't watched this anime yet, be sure to checkout some of this silently awesome anime. However, it would need a portion of your lifetime to watch all of the DC's content 🙂
4. Erza Scarlet (Fairy Tail)
We, as in anime fans talk about shonen characters all the time. So, we thought to include a shoujo character this time. Women aren't portrayed enough in limelight in shonen anime. Fairy Tail did it differently by introducing Erza into the story. Erza is a powerful wizard in the story on par with the protagonist Natsu.
Her gorgeous beauty with scarlet hair, stubborn, strict attitude with secretly caring nature makes her tsundere personality quite appealing to fans looking for strong female characters. It's a mainstream concept in anime for powerful characters to have dark past. So does Erza, when she was a slave, that's where her personality traits come from. To add up another interesting fact – Erza is known for her love of armours and creative assembly of power up using armours. She is the iron lady of the Fairy Tail guild.
We would like to see more female characters like Erza to rope in female anime fans. Such characters can have positive influence on girls in their youth, in a manner similar to how male characters influence young boys.
3. Vegeta (Dragon Ball Z)
No list of badass characters can be complete without the mention of Vegeta. Its been thirty long years since the first air of this all time epic series. Still the characters resound in our mind. Perhaps, DBZ was the first introduction to anime for many of the fans based in India. Due credit goes to Cartoon Network for bringing this show to India. Talking about Vegeta, he is an antogonist in the anime as opposed to the other side characters on this list. But he goes through a phenomenal emotional transformation as the arcs in the series unfold.
Over time he evolves into a vital, yet untrustworthy ally, Vegeta's character development is one of the strongest in the show. Vegeta was immensely determined to destroy the earth in season one of the series. But watching Vegeta humiliate himself in order to save the planet from Beerus, the God of Destruction, in Battle of the Gods is an fascinating turnaround. When considered his role in DBZ super he becomes more family oriented and more responsible parent than Goku.
Also Read – 5 Time Vegeta Was Highly Underestimated
2. Hatake Kakashi (Naruto)
The masterpiece series is literally named after the hero of the anime, Uzumaki Naruto. Still the show has many characters that play amazing roles in background and could well take the lead. One amongst them is Hatake Kakashi, a shinobi from the Konoha's Hatake clan. Kakashi has an interesting backstory full of pain, agony, and growth that's worth exploring and delving deeper. He loses his mother as a child, and subsequently his father, Sakumo Hatake, a ninja renowned for saving the Hidden Leaf Village on more than one occasion.
His father fell from grace within the clan/village after choosing to save his comrades over completing a mission. His father's untimely death due to depression, adversely affects the young Kakashi. Yet, despite his troubled past, Kakashi doesn't become evil like many other Naruto characters. He later also comes to understand his father's decision when faced with a similar situation.
With time and rigorous training, Kakashi becomes more confident and self-reliant, which helps him to acquire the position necessary to become a mentor to the village's young ninjas. Despite his reputation and solid ninja skills, he shows no signs of arrogance. His modest and soft nature, tragic backstory, and ninja abilities earns him a second spot on this list.
1. Roronoa Zoro (One Piece)
Mind boggling as much as the storyline of One Piece is, everyone has a hard time tracking the individual characters, their personal and interwoven character development. Let's face the fact, One Piece is a multiverse of stories. With arcs within arcs and with side characters having their own side characters, One Piece has limitless potential with each of Luffy's nakama can have their own anime.
Throughout the show, Luffy has been the face of the Anime but many of the fans adore the badass character of Luffy's first mate, Zoro. Zoro's loyalty to his captain and his crew is second to none. From the action at whiskey peak to his near death encounter with Kuma at thriller bark, zoro has amazed the fans with his skill, endurance, integrity and sheer grit. We have seen the glimpse of his fortified strength in the new world but Oda is yet to unleash Zoro at his peak potential as the world's strongest Swordsman. His quirks for having tolerance to booze and wasted sense of direction further add to his character. That's why we have put him in first position in this list. Knowing Oda, he will surely continue to thrill us with upcoming arcs with Zoro at his best.
That's it for coverage on top 5 side characters in popular anime. Hope you enjoyed the quick read. We have more content in the form of memes, blogs, fan-fiction and merchandise coming your way through our 9tails ecosystem.
Also Read – One Piece | Zoro Father Revealed
Top 5 Best Side Anime Characters Of All Times
Roronoa Zoro (One Piece)
Hatake Kakashi (Naruto)
Vegeta (Dragon Ball Z)
Erza Scarlet (Fairy Tail)
Dr. Hiroshi Agasa (Detective Conan)
Original Article Link
Check Out 9tails.in for awesome anime merchandise and content.
Also Check out